Several import drugs application accepted by NMPA.
2020-04-17 13:31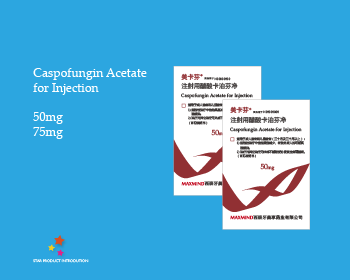 [Good News] Several import drug applications have been accepted by the National Medical Products Administration (NMPA)!
Recently, import drug registration application of Caspofungin Acetate for Injection has been accepted for review by NMPA. Caspofungin Acetate for Injection is indicated for the treatment of invasive aspergillosis in patients who are intolerant of other antifungal drugs. It is originally developed by Merck Sharp & Dohme and is known with the proprietary brand name of Cancidas®.
The products that have already been applied and have entered the review stage include Bortezomib for Injection, Paricalcitol Injection and Tadalafil Tablets.
Bortezomib for injection, originally developed by Janssen Pharmaceutical Ltd. and marketed as Velcade®, is indicated for the treatment of relapsed and refractory multiple myeloma.
Paricalcitol Injection, originally developed by Abbvie and marketed as Zemplar®, is indicated for the prevention and treatment of secondary hyperparathyroidism caused by chronic renal disease.
Tadalafil tablets, originally developed by Eli Lilly and marketed as Cialis ®, is indicated for the treatment of male erectile dysfunction (ED) .
In addition, NMPA has signed the receipt of the application dossier of Pregabalin Capsules which are believed to be accepted soon. Pregabalin Capsules, originally developed by Pfizer and marketed as Lyrica®, is indicated for the treatment of diabetic peripheral neuropathic pain (DPN) and postherpetic neuralgia (PHN).
All products mentioned above have been approved to be marketed in Europe, and their clinical applications are safe and effective. All of them applied for importation into China according to category 5.2 of registration classification which is consistent with the quality and efficacy of the original drug. All specifications of them are not lower than the requirements of the pharmacopoeias of the five countries or region (CP, USP, EP, BP and JP), and all the studies in the development process are performed in accordance with the corresponding guidelines of ICH.
These 5 products, in the field of indications, are first-line drugs with clear mechanism of action and clinical effect with high degree of professional recognition by clinicians. The application and approval of our company's products can expand the access to high-quality clinical drugs and improve the clinical benefits of the vast number of patients.